Raincliff, South Canterbury
The Raincliff Youth Camp is 40km inland north west of Timaru, South Canterbury, and 2 hrs travel south of Christchurch. It is equi-distant between the townships of Fairlie, Geraldine and Pleasant Point and easily accessible on sealed roads.

From Pleasant Point turn into Te Ngawai Rd at the Pleasant Point Hotel and follow the Raincliff signs for 19km.

From the Geraldine-Fairlie Rd turn off at Gudex Rd (near the Skipton bridge)and follow the signs for 7km.
CELL PHONES - Please note NO coverage is available at the camp.

For a more detailed map click on the "Raincliff Map" page.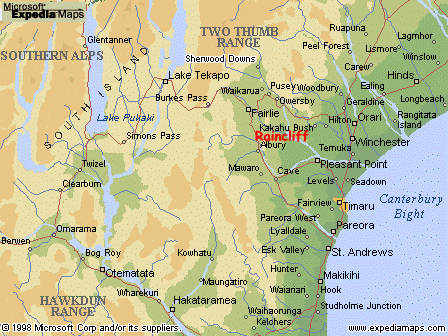 Possible Activities
The site has easy access to bush walks, nature reserves, river sports (fishing, canoeing, rafting) ski fields, caves, and historic places (Maori rock art, Richard Pearce Memorial, Kakahu school & lime kiln).

Raincliff is an excellent base from which to explore Timaru (30 minutes away) and its surrounds. School groups will have excellent access to natural (river, bush, cave, plants, animals) and cultural (farms, settlements, dams, moa hunting) settings for academic study.

The Camp has played host to pony club activities, car club outings, band practices and aviation enthusiasts. The possiblities are are countless.
Camp Charges

CAMP CHARGES:

WEEKENDS: The Camp is available from Friday afternoon 3.00pm to 3.00pm Sunday inclusive. Adults $35.00. Youth, pre-school children and students continuing in school (secondary school and under) $15.00. Numbers to include all people associated with the camp- leaders, kitchen staff, guests etc.
Standard charges for all weekend groups - extra days or part days are plus the weekly daily rate of $12.50 adults and $6.00 youth per day or part day. See weekly camp charges.

WEEKLY CAMPS: The Camp is available from 3.00pm Sunday to 3.00pm Fridays. Pre-school children and students continuing at school (secondary and under) $6.00 per person per day or part day. Adults and youths who have left school $12.50 per person per day or part day. Day visitors who join or visit organised camps or groups $2.00 per person per day camp charge.

SINGLE DAY ACTIVITIES are only considered by the Board if a special need arises as they restrict weekend and weekly bookings for those wishing to run camps, A minimum charge would be payable.

ONE NIGHT (WEEKEND) FUNCTIONS e.g. Weddings & Birthday Parties: The Camp is made available from 3pm Friday to 3pm. Sunday and a Facility Charge of $800 plus $20 per person per night for children and adults staying overnight.. Use of St David's Church is by application to the Letting Convenor.

DEPOSIT: For all bookings the deposit is $100. This deposit will be refunded by cheque if conditions hire are met. The deposit is forfeited in event of cancellation or change of date. Charges subject to increase as costs make necessary.

BREAKAGES: Please list any breakages or damage on check sheet in office. The orange form attached to green payment form should also be completed. Any cost involved will be deducted from the deposit refund or if more than 5 an account will be sent to recover the cost of damage.

CARAVANS: 14 wired sites are available. People using their own caravans will pay the normal camp fees with the caravan point being supplied free.

RUBBISH: There is no rubbish collection service at Raincliff. Groups are responsible for ensuring that all rubbish is collected during their stay and taken off the property when they leave. They should bring suitable containers with them for collecting & storing the rubbish. A minimum charge of $100.00 will be charged for those groups that do not remove all rubbish when leaving the camp.

ALL CHARGES ARE INCLUSIVE OF GST